Athletic character exclusively cut for the tarmac!
The flagship of Ixon's know-how, the Vortex 3 is a concentration of technologies directly inspired by our experience and know-how in MotoGP®. The design, construction and accessorising are exclusively the result of our work alongside the best riders in the world. From the hump to the sliders and ODAs, nothing has been left to chance so that the Vortex3 provides you with an outstanding technological and ergonomic experience.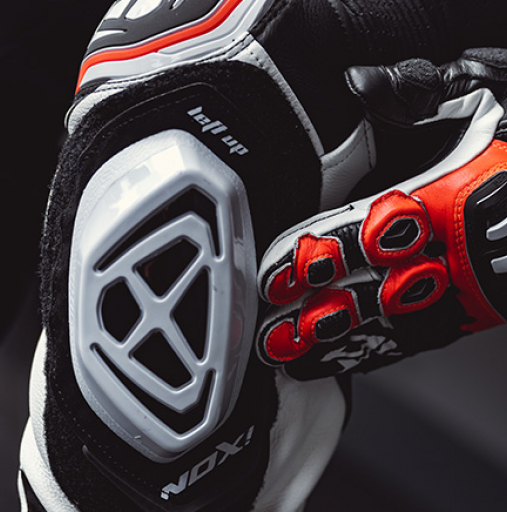 An outfit designed to protect you
Our competition work constantly improves our know-how. //Beyond design, above all, our task is to offer **maximum safety** through each of our racing products.
Much more than just Racing products, the Vortex3 range is a new advancement in technology and safety. Designed down to the smallest detail, these products embody innovation and the Ixon identity.
SEASON
• Waterproofing: No
• Insulation: No
SAFETY
• CE-certified model, class AAA, complies with standard EN 17092-2:2020
• BETAC type B level 1 shoulder/elbow/knee protectors, used in MotoGP®
• YF C30 type B level 2 ventilated hip protectors
• Fanom® chest protector pockets (available as an option)
• Localised micro-perforations for seam protection
• Forearm assembly protection and wrist zip protection in polymer materials with high abrasion resistance
• 3D Mesh reinforcement with 600D strengthening on thighs and back
• Double layer of leather on the seat
• Leather reinforcement outside/inside thighs
• Coccyx foam protection
• YKK nylon #8 zip with self-locking slider for the main closure
• Semi-self-locking slider on wrist and calf zip
• Double turned seams, fully secured for all assemblies
FEATURES
• Outer material: Leather + Lycra-lined 4-way stretch nylon
• Interior material: Fixed soft mesh with removable soft mesh vest
• Adjustments: Zipped calf comfort gusset
• Pockets: 2 inside pockets on the removable vest
• Accessories: New bi-density polymer ODAs on shoulders and knees – New removable, replaceable ELBOW 2.0 elbow sliders, derived from MotoGP® – Removable, replaceable, position-adjustable RACE 2.0 knee sliders, used in MotoGP® – New aerodynamic hump used in MotoGP® – Special system to hold 0.5L hydration bladder – Anti-slip panels on the shins for better grip in the boots – Removable mesh vest – Ankle straps for hanging the legs on the hanger
FIT AND COMFORT
• Fit: Fit - Close to the body
• 4-way stretch Nylon panels on the torso / sleeves + shoulders / crotch + legs for adjustability and ease of movement - Fully lined in lycra for a comfortable touch
• Seamless double-layer 4-way inserts on the wrists / ankles / rear collar for optimised comfort in the flex zones in the racing position
• Flex accordion ribs / shoulder blades / lower back / knees for flexibility and to allow the airbag to deploy
• New forearm construction with zip in the back position for improved comfort in the racing position
• Neoprene comfort lining on the collar
• 3D Mesh reinforcement on thighs and back for optimised air circulation and increased protection in sensitive areas
• Localised micro-perforations from knees to shoulders for optimal ventilation
• Airflow pocket in 3D Mesh in the SEKH protectors for better air circulation between body and protector