The must-have racing glove from MotoGP®!
RS REPLICA
The most innovative technologies
to take to the track!
This is the most technical and certainly the most innovative glove in the Ixon collection.
An almost complete replica of the gloves developed for MotoGP® riders, RS Replica is a technical and protective product designed to bring you unparalleled riding comfort.
Summer
reinforcements with aramid
knuckle protector
CE certified glove
le parfait équilibre sécurité / souplesse
RS Replica is the most advanced glove on the market when it comes to protection. The design and choice of materials have been carefully selected to withstand impacts, cuts and abrasions without compromising on driving precision:
Double-density injected knuckle reinforcements on the back of the hand, Schoeller® Keprotec® reinforcements on the fingertips and palm, DuPont™ Kevlar® cotton and aramid fibre inner lining, edge reinforcements and aramid between fingers.
There are several products that perfectly reflect this constant back and forth
between the most advanced innovations and how they can be used by the majority of people
Supporting your performance
Our goal is to produce the most innovative gloves with the best possible workmanship and technical features to suit every biker.
Research, resilience, performance and safety are at the heart of our work.
Find a store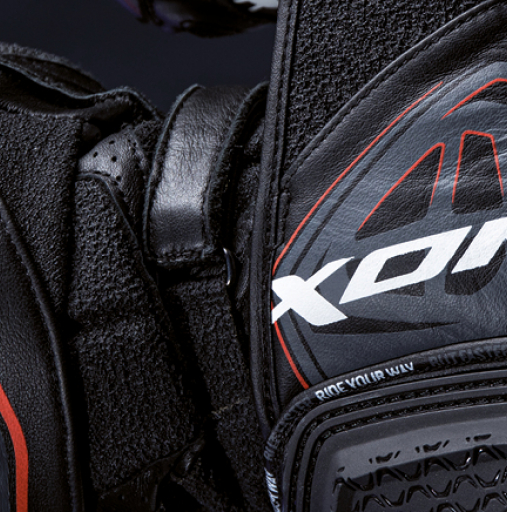 RS Replica is CE certified, level 1
At Ixon, we don't skimp on your safety, and we strive to offer the best products in terms of both protection and materials.
All our gloves are CE certified, level 1 (EN17092)
Find a store
#RACEYOURWAY
Race with peace of mind! With performance as one of our main priorities, our R&D team works tirelessly, with the help and advice of the world's most elite racers, to take your passion to the next level
SEASON
Summer
waterproof 0
breathable 2
warm 0
ventilated 4
Ventilated knuckle protector
Ventilated aramid between fingers
SAFETY
CE certified glove
knuckle protector
Reinforced palm
Reinforced sidewall
reinforcements with aramid
CE Modell
Hard over injected dual density knuckle protector on backhand
Schoeller® Keprotec© reinforcements on tip of fingers
Schoeller® Keprotec© foamed reinforcements on palm and backhand
Inner lining in cotton and aramid fibers from DuPont™ Kevlar®
Aramid between fingers
Reinforced sidewall
backhand: cow leather
palm : cow leather
lining : cotton & aramid DuPont™ Kevlar® fibers
DuPont ™ and Kevlar® are trademarks or registered trademarks of E.I. du Pont de Nemours and Company
FIT AND COMFORT
Stretch strap at wrist
Gusset and ventilated comfort foam under the knuckle protector
Doble strap + injected shell at cuff
Ergonomic handle grip
Grip tab for an easy slip on
Anti-twist system for little finger
black/white