A new standard applies today for the certification of motorbike clothing. 
The EN17092 standard replaces both the 13595 standard and protocols and thus allows to certify all motorbike clothing, whether it is designed for professional or leisure use. It integrates classes of certification adapted to all different motorbike practices.
EN 17092 
CERTIFICATION
A PROTECTION ACCORDING TO ZONES,
MORE LOGICAL 

While zone 1 represents the areas where the CE protections are located on elbow, shoulder, knee and hip, zone 2 recovers the outside of the legs, the top and back of the arms, the back as well as the buttocks and sides. Less exposed to abrasion, the front of the chest, the inside of the legs and the inside of the arms are in zone 3.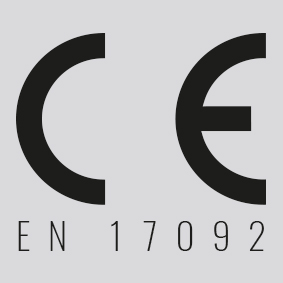 5 CLASSES
FOR AN ADAPTED PROTECTION
We don't need the same protection whether we're driving on the track, on the road or in the city. First because we don't slide the same at 30 km/h than at 150 km/h.
The new standard therefore consists of several classes:
AAA : for jackets, trousers or suits that have to support full speed sliding on the track.
AA/A : offer to everyone the possibility to find a product that offers the optimum balance between the need for protection and the obvious need for comfort and flexibility according to the intended use.
B : products meet the same minimum protection requirements as class A products, but do not include CE protection for elbows, shoulders, knees and hips.
C : designed only to hold one or more CE elbow, shoulder, knee, hip and/or back protectors in place, on or under clothing.
WHAT PROTECTIONS ARE MANDATORY 
DEPENDING ON THE CLASS OF CERTIFICATION?
A REVISED ABRASION TEST METHOD 
The tests are carried out on a concrete slab with a test protocol called DARMSTADT. This method is much closer to the real conditions in the event of a motorcyclist's fall (the tests were previously carried out by rubbing the fabric with an abrasive material).