ULTRA-VENTILATED SUMMER JACKET TO COPE WITH THE HEAT
Maximum ventilation for maximum temperatures! The FRESH SLIM is quite simply the most ventilated jacket in our collection, in a new, even more tailored fit.
Summer
CE certified class A

Urban
Slim fit

See the size guide
SUMMER JACKET PAR EXCELLENCE
Very ventilated, but also comfortable and light, the FRESH SLIM is the textile jacket par excellence for riding in summer without suffering from excessive heat!
FORGET THE HEAT AND CONCENTRATE ON YOUR RIDING PLEASURE
A well-studied design and the choice of Hard Mesh
The FRESH SLIM has been designed to let air circulate as much as possible. Ventilation is provided by the very large Hard Mesh inserts on the front, sleeves and back. The waterproof pocket, cleverly placed on the back, doesn't hinder the flow of air on the front of the jacket.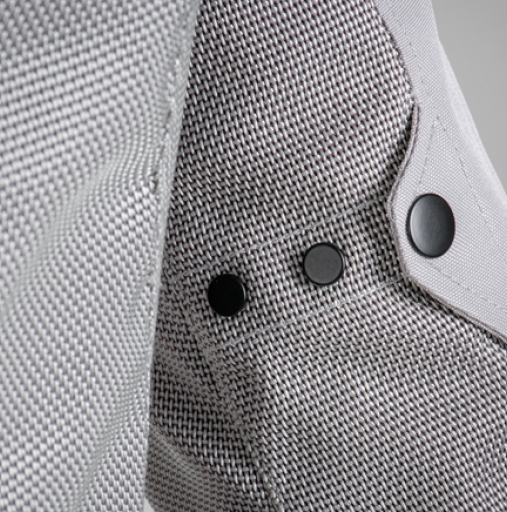 Tailored for your comfort
In addition to its tailored fit, the FRESH SLIM has clever features: bicep and wrist press studs improve your comfort.
RIDEYOURWAY… with pride
With our Roadster range, you're guaranteed to ride protected and can express your personality through equipment that suits you and matches your style. Our aim: to offer you the best to take on the tarmac!
SEASON
Summer
waterproof 0
breathable 4
warm 0
ventilated 4
textile
• Waterproofing: No
• Insulation: No
SAFETY
CE certified class A
Shoulder-Elbow CE protectors
Pocket for CE back protector
reflective parts
Compatible with Ix Airbag U03 vest
• CE-certified model, class A, complies with standard EN 17092-4:2020
• YF-B28 elbow and shoulder protectors type A level 1
• CE back protection pocket (available as an option)
FEATURES
Urban
waterproof pocket
3D mesh
• Outer material: Hard Mesh, 600D Polyester
• Interior material: Soft mesh
• Ventilation: maximum ventilation by very wide Hard Mesh inserts (front, sleeves, back)
• Collar: classic collar with press stud closure
• Adjustments: bicep press studs, wrist press studs
• Pockets: 3 outside pockets including a waterproof back pocket, 1 inside pocket
• Other information: reflective inserts (biceps)
FIT AND COMFORT
Slim fit
Size Guide
Blouson Homme