Ultra-compact and breathable gloves with an uncompromising sports style
The RS4 AIR is an ultra-compact glove in our Roadster range, a chance to combine a resolutely sports look and a capacity to take on the heat. Based on elements combining leather, perforated leather and Mesh, the RS4 AIR is a very breathable glove, making it an excellent choice for summer.
Summer
knuckle protector
CE certified glove
Roadster
Your safety comes first
To provide you with optimum safety, the RS4 AIR has a carbon knuckle shell on the back and leather padding at the cuffs. // It also stands out through its level of protection on the palms, since the gloves include a sport slider, padding on the palm and padding on the edges.
Forget about the heat and carry on enjoying your ride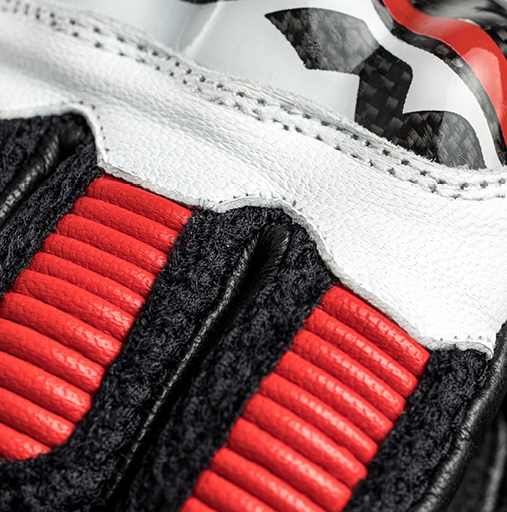 The details make the difference
The RS4 AIR also stands out through the useful details. For example, the flex leather nicely placed on the knuckles adds to your protection, comfort and style.
Great protection and air flow for your ride!
The RS4 AIR will protect you without letting the heat give you a hard time! Alongside the protections, the gloves are designed to guarantee the safety you need, while ensuring good air flow. With a combination of leather and Mesh on the back of the gloves and the use of perforated leather on the palms, the RS4 AIR is guaranteed to stay breathable.
#RIDEYOURWAY… with pride
With our Roadster range, you will always ride protected, while asserting your personality with equipment that really suits your style.
Our mission: to bring you the best to tackle the tarmac!
SEASON
Summer
waterproof 0
breathable 4
warm 0
ventilated 4
SAFETY
CE certified glove
knuckle protector
Palm slider
Reinforced sidewall
Reinforced palm
FEATURES
Roadster
index compatible with screens
Leather
mesh
• Outer material: Mesh (back), goat leather (back, palm)
• Ventilation: very breathable glove due to Mesh on the back and perforated leather on the palm
• Protections and shell: carbon knuckle shell, sports slider, reinforced palm, reinforced edging
• Short cuff
• Fastening: tightening tab at wrist
• Practical features: index finger compatible with touchscreens
FIT AND COMFORT
• Comfort: gusset below the knuckle shell
BLACK
BLACK/WHITE
BLACK/ORANGE
BLACK/RED/WHITE