The only Airbag-Ready backpack on the market
V-Carrier 25 is the first Airbag Ready backpack on the market. The automatic elastic adjusting straps on the sides leave room for an airbag to inflate. With this technological asset you can ride with perfect safety and peace of mind.
sangle ventrale compatible Airbag
sangle pectorale compatible airbag
V-Carrier 25 is equipped with a wide range of technical assets. This product has been designed exclusively by and for motorcyclists. The inside includes a whole host of pockets for a computer, telephone, notebook, pencils, etc.
Small features that will always come in handy
This backpack is not just a bag, but a real assistant for your daily journeys. The technical details, such as the rain cover or the helmet string bag, provide total autonomy and absolute water-resistance.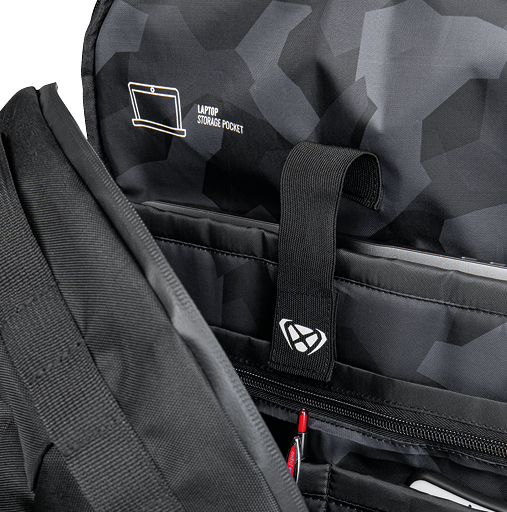 A backpack has never had this much freedom of movement
Coté confort, la partie dos ainsi que les bretelles sont composées de rembourrages en mousse et une poche est disponible pour intégrer une dorsale.
Find a store
practical above all!
V-Carrier 25 est caractérisé par les technologies embarquées, la sportivité et la fonctionnalité apportée. Ixon a su apporter son lot de petits détails qui font la différence et qui permettent une utilisation rapide, facile et ludique au guidon de votre moto.
Find a store
#RIDEYOURWAY… comfortably
Our aim is to provide you with a backpack equipped with the most innovative features and materials. Performance and safety have to be at the centre of our daily lives and humility is needed in the face of success. Let's focus on the future and not on the past.
SEASON
Independent neon yellow waterproof cover, stored in a dedicated pocket
SAFETY
Compatible with Ix Airbag U03 vest
FEATURES
sangle ventrale compatible Airbag
sangle pectorale compatible airbag
Capacity 25 L - urban backpack
47x30x15 cm
Large main entry with double zip puller
Pocket on back with phone location ,foamed pocket for laptop + zipped patched pocket
Pocket with organizer mesh net pocket
2 zipped pockets
1 waterproof pocket
Integrated spider pouch stored in a dedicated pocket
Woven grip + woven strap for carabiner clip
Air-bag-ready anatomic shoulder straps adjustable in height and width, with adjustable waist strap
Padded back for comfort
Pocket for back protector
Strong fabric on bottom
Reflective piping
black