REV UP YOUR
PERFORMANCE!
This race suit's brand new and exciting design gives you improved airflow and freedom to move, so you get all the thrills of the ride with comfort to boot
Summer
CE certified class AAA

Racing
fitted cut
highly preformed

See the size guide
See the video
A SERIOUSLY PREFORMED RACE SUIT
The Vendetta Evo features soft yet strong fabrics in high-abrasion areas and unrivalled protection and performance.
The Vendetta Evo race suit captures Ixon's bold spirit and new look and owes its future-forward design to MotoGP™.
All the thrills
for the ultimate ride
without sacrificing safety
Ride safe in theVENDETTA EVO race suit. It's suitable for the Ix Airbag U03 and comes with external armour, padding and CE-certified protectors. Take your track days up a gear!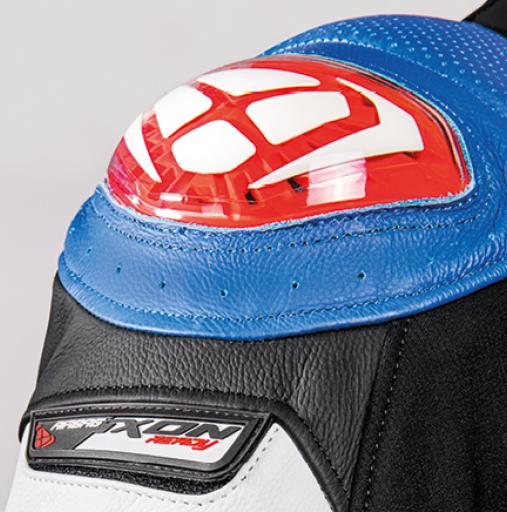 Improved airflow for even more freedom to move.
The Vendetta Evo features several ventilation areas with localised micro-perforations, air extractors, a removable mesh lining and 3D Air Spacer mesh protector pockets which provide the ultimate in comfort with improved airflow.
#RACEYOURWAY
Race with peace of mind! The Vendetta Evo race suit is AAA-certified (En-17092). It has shoulder, elbow, hip and knee protectors. So you can race around the track with total peace of mind
SEASON
Summer
waterproof 0
breathable 4
warm 0
ventilated 4
presence of ventilation
Micro perforated leather
Air extractors on hump and back
Removable mesh lining
SAFETY
CE certified class AAA
Shoulder-Elbow CE protectors
knee-hip CE protectors
Compatible with Ix Airbag U03 vest
CE model- AAA
Elbow-shoulder CE protectors Level 1
Knee CE protectors. Level 1
Hip CE protectors. Level 2
Secured stitching
Thick and supple cow leather
High abrasion resistance synthetic fabric reinforcements on exposed areas : forearms and knees
Compatible with Ix airbag-U03 vest
Reinforcements with material complexing on areas exposed in case of fall (double layer of leather, 3D AIR SPACER mesh) for safety and better airflow (chest, biceps, triceps, shoulders, thighs)
2-layers of leather on buttocks and foam reinforcements on coccyx area
Thumb loop straps (which prevent the sleeve from coming up in case of a fall
FEATURES

Racing
ODA on the shoulders
aerodynamic hump
mesh
3D mesh
Leather
Aerodynamic hump equipped to welcome a water bladder
Removable and adjustable elbow sliders
Knee sliders included, adjustable and replaceable (ref. Slider race 2.0)
Removable mesh lining
2 internal pockets
FIT AND COMFORT
fitted cut
highly preformed
Stretch parts
flex parts
MotoGP™ inspired dual-density sleek shells on shoulders and knees
Localized micro-perforations to avoid weakening the leather on stitching areas
Multi-material reinforcement (double layer of leather and 3D AIR-SPACER mesh) for safety and better air flow (chest, Biceps, Triceps, Shoulder, Thighs).
pockets for protectors in 3D AIR-SPACER mesh
Highly ventilated Aerodynamic hump with air extractors
Flex leather on sides, on back of armholes and on bottom back
Stretch inside sleeves and on all the leg length, from crotch to calves
grip inside knees
Size Guide
Combinaisons homme